April 28, 2023
Cardinals,
The school year is quickly approaching its final weeks and there are several things which come about this time each year that are important to remember: graduation, re-enrollment in school, and summer break. Please don't miss out on these special events.
Graduation for WEST Academy will be held Friday, May 19, 2023 at 4:00 PM at Berg Middle School. Graduation for Newton High School will be held Sunday, May 21, 2023 at 3:00 PM at Maytag Park. This is that very special occasion to witness the final steps taken by our Cardinal Seniors as they prepare to enter their next stage of life. These events are open to the public. Please join the entire Cardinal family to recognize the years of hard work and dedication from our seniors.
     School re-enrollment occurs each year around this time. Getting an early start on this process can help get a head start on the next school year so you can relax and enjoy the summer. Make sure you check the information on requirements for school at the different grade levels. The district website has all of the important information necessary to complete re-enrollment. If you are the parent of a first time Cardinal student there is also registration information to help you get started! If you have any questions or are unclear on the process, please contact us at the District Office (641) 792.5809 and we will be happy to help out and to welcome you to our Cardinal community.
Summer break will begin Saturday, May 27, 2023. The last day of school for our (K-12) students is Friday, May 26, 2023, and for Pre K students it will be Thursday, May 25, 2023. Please remind your students to take home their belongings before they leave for break. We have many different items in our lost and found that need to be claimed. If you are aware of any items that your student has misplaced throughout the year, please have them ask at their school office. We may have it and would love to return it. You can also check with your child's school to claim the belongings.
It has been a great year and I want to thank everyone for trusting the Newton Community School District with your students. I hope that your student's experience has been a positive one and we look forward to having them back with us next year here in Newton where we are honest, caring, positive, fun, and supportive.
Go Cards,
Tom Messinger
THE BIG GAME!
Who is ready for the BIG GAME? The students and staff have prepared and you can see the excitement about this NCSD favorite event here!
Thank you to our Administrative Assistants!
The heart and soul of the school is in the front office! From hugs, to themed morning announcements, this group brightens up the day for each and every student at our schools!
Thank you to our Principals!
Hear from our students just how much, and why they love our principals!
UPCOMING DATES
May 1st
1.5 Hour Early Dismissal for Students
No Preschool
NHS Spring Band Concert
May 4th
AH and EH Spring Concerts
May 8th
1.5 Hour Early Dismissal for Students
No Preschool
Board Meeting at 5:30pm
Board Highlights
Check out the latest Board Highlights from our April 24th, 2023 Meeting!
Enroll TODAY!
It's time to re-enroll for the 2023/24 school year, it will be here before you know it Use this link to get signed up HERE!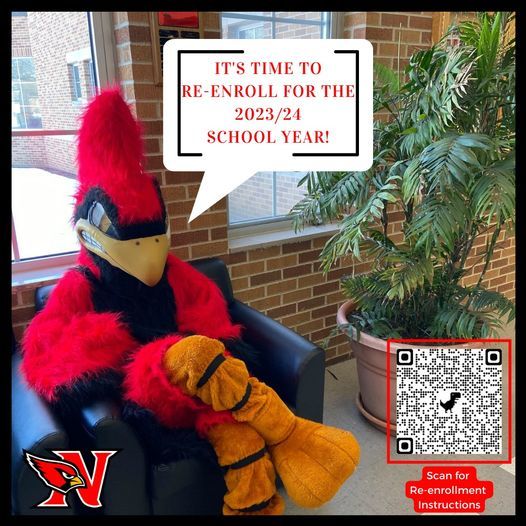 ---
MORE INFORMATION IN NCSD