January 13, 2023
Happy New Year Fellow Cardinals!
It is hard to believe we are already halfway through another school year. The whole district was filled with all sorts of holiday spirit during the month of December and Woodrow Wilson was no exception! From a holiday get together, staff and student dress up days, to our annual Caroling contest, you could feel the joy and see the FUN had by all throughout our building. We are looking forward to this brand new year and are anxious to see the growth and the connections students make as we get ready to start this next semester of teaching and learning.
Woodrow Wilson has been affirming students and other staff for several years through Cardinal of the Week and Staff Shout Outs every Friday. District wide we are also recognizing others every Monday during our Huddles. Huddles are small groups of adults who get the opportunity to recognize others focusing on the district's core values; honesty, caring, positivity, caring, fun and supportive. Woodrow Wilson is soon going to roll this out for parents to recognize teachers as well. Stay tuned for more details!
As we roll into this year, our staff (along with our PTA) will be planning a STEM night. This Family STEM Night will be on Thursday, April 27th and will be an evening of hands-on science, math, and engineering activities for our students and families to complete together. When students are able to connect what they are doing to everyday experiences in their lives or community, and are provided an opportunity to explore natural phenomena, deeper learning takes place.
We are also looking forward to planning our fifth annual One School, One Book event! This year we are partnering with all elementary schools and will include the community and community members. With One District, One Book, we select a book and each student in our school receives a copy to read at home as a family. At school, students celebrate and explore this novel with their classmates. This program reinforces reading instruction, increases parental involvement, bridges the home-school connection, and builds a true community of readers.
We are looking forward to finishing the second half of the school year strong and making every day count!
Todd Schuster, Principal Woodrow Wilson
---
Thank You To Our School Board!
Our appreciation for our School Board and all they have done for our community. The countless hours and commitment to the school District are worth a big "Thank you!"
Literacy is the backbone to the education of our students. Learn about the importance of literacy and how it impacts students' education.
Teacher & Paraeducator Registered Apprenticeship Program
Iowa's Registered Apprenticeship Programs help Newton Community School District create a reliable, continuous pipeline of highly skilled workers while helping
talented paraeducators jump-start rewarding careers here in the city of Newton!
---
UPCOMING DATES
January 16th
1.5 HOUR Early Dismissal
For all Students and Campuses

January 23rd
1.5 HOUR Early Dismissal
For all Students and Campuses

Board Work Session: 5:30-6:30pm
School Board Meeting: 6:30pm-9:00pm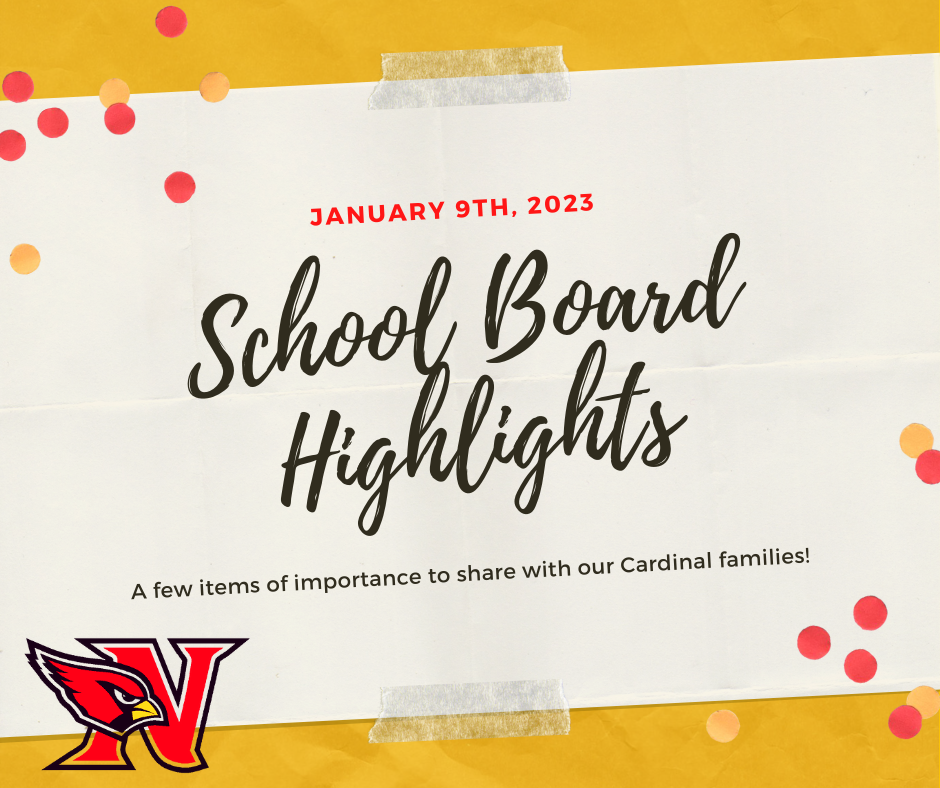 Highlights from the meeting on January 9th, 2023 here!
Dollars for Scholars
The Newton Dollars for Scholars® chapter, located in Newton, Iowa, is a nonprofit foundation that supports academic success in our community. As part of Scholarship America's® national network of locally based, volunteer-driven Dollars for Scholars chapters, our mission is to mobilize our community on behalf of postsecondary education success for our students.
Dollars for Scholars chapters like ours help hometown students achieve their educational goals by raising scholarship funds, establishing endowments, providing assistance with college readiness and the financial aid process, and distributing scholarships each year.
Last year, $197,500 was awarded to students in scholarship funds by Dollars for Scholars. Some of these scholarships are renewable, and help encourage students to continue their college education. In its 36 years, Newton Dollars for Scholars has awarded over 3,307 scholarships totaling more than $2,450,150 to Newton Senior High School, Basics & Beyond High School, and WEST Academy High School graduates.
This year we ask seniors to please join us at our January meeting in 2023 to learn about how they can fill out the application and apply.
Scholarships are received on May 5th, at our Awards Ceremony.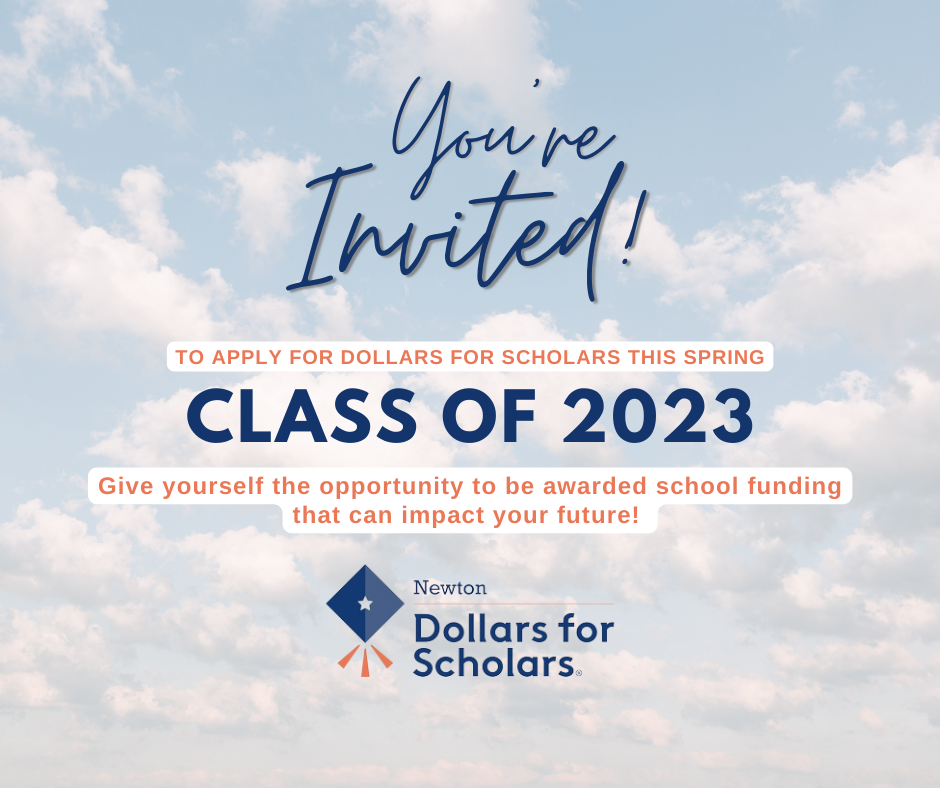 INCLEMENT WEATHER INFORMATION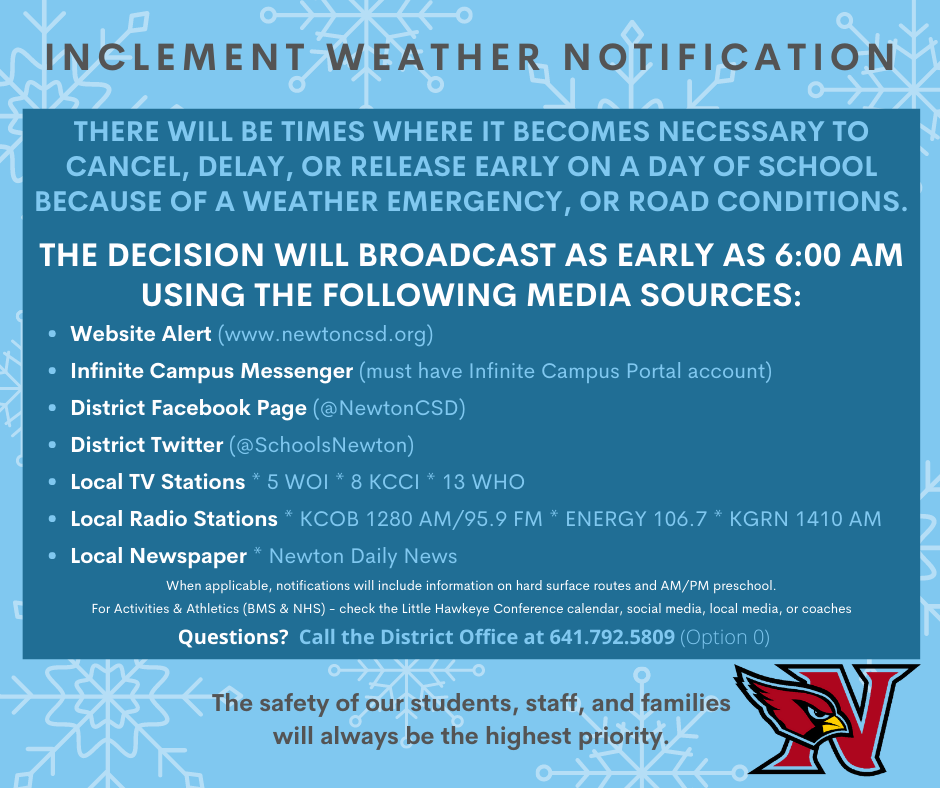 MORE INFORMATION