Your Roadmap to Wellness
In partnership with MercyOne, the Newton Community School District has created a Wellbeing Portal for our employees with online tools and resources to help you focus on your mental, physical, and emotional health. There are resources to help you achieve your goals, no matter what they are. We're glad you're here. Log in, live well, and earn rewards!
Learn more here: How to Create a Wellness Account

Click on the link below to get started, and take the next step toward a healthier, happier future!
Create an account - if you have not signed in before, you will need to activiate your account:
Visit the Wellbeing Portal to join the challenge(s)
Select JOIN NOW and follow the on screen prompts
Returning user:
If you are a returning user, sign in with your username and password on the Wellbeing Portal
Questions? Contact MercyOne at questions@mercyonecustomercare.com
Phone: 844.325.4376
---
Newton Community School District Wellbeing Program Guide
Welcome to the NCSD wellbeing program, which runs September 25, 2023 - May 31, 2024. This guide contains instructions for joining the program, completing requirements, and earning rewards. All qualifying activities must be completed by May 31, 2024. Earn 300 out of 525 available points to receive a Newton Wellness t-shirt, Newton Wellness jacket, a Stanley style mug, and $100 wellness stipend check.
Newton Community School District Wellbeing Program Guide
Download the Navigate Wellbeing app and get started tracking your activities today!


---
Featured Group Challenges
What are group challenges? Group challenges are a great way to stay connected with your organization, engage in healthy activities, and earn points towards your wellness reward. See the 2023 - 2024 Newton Community School District Wellbeing Program Guide for more information.
GROUP CHALLENGE #1
"Plan it for the Planet"
September 25 - October 22, 2023
Registration is now open for 2023 Newton Schools Plan it for the Planet Challenge !

Join this challenge for a chance to make great things happen for your community and for yourself! Each week, you'll track your daily step count and complete a new task related to community volunteering, donating, or otherwise doing good for others around you. Improve your health and the lives of those around you over four short weeks!
Duration: Four weeks
Weekly themes:
Get up, get active, and go do good
Spring (and winter, fall, and summer) cleaning
How to help when you don't have the time
Other ways you – yes, you – can help save the planet
How to Participate: Track your daily step count. Complete a weekly task related to doing good in your community, then check "I Did This" on the challenge to-do list on the platform. Note: If you have a device or app synced to the platform, it will automatically record your minutes. For tips on achieving your to-dos, review the challenge guide.
How to Complete the Challenge: Earn a minimum of 22 points of the 32 possible to complete the challenge. To earn a point, you must track at least 1 step of activity for the day or complete a weekly task.
Click HERE to view the Challenge Guide.
Challenge Dates: September 25 - October 22, 2023
Registration Dates: September 11 - October 1, 2023
Recording Details: You can record up to 7 days in the past. The last day to record is October 29th.
Each week the challenge begins on Monday and ends on Sunday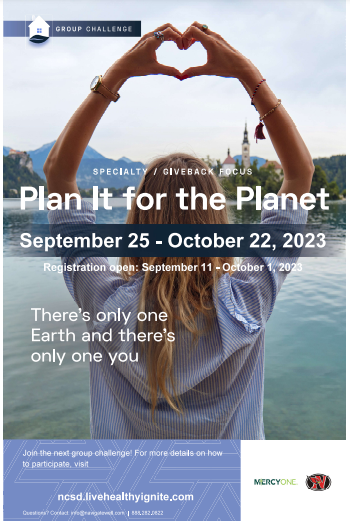 ---
GROUP CHALLENGE #2
"Food for Thought"
January 8 - February 18, 2024 (Registration opens 12/25/23)
Here's a head-scratcher—why can it sometimes seem too hard, too expensive, or too plain boring to eat nutritious foods? The good news is that it actually can be easy—and this six-week challenge can help! You'll learn new ways to stay healthy, feel full, and eat deliciously.
---
GROUP CHALLENGE #3
"What Makes Cents"
April 1 - April 28, 2024 (Registration opens 3/18/24)
It's time to organize your financial life. Whether you're currently on target, falling behind, or saving ahead, you'll find value in this four-week challenge from the experts at Your Money Line®. Learn new ways to feel free from financial worry!

Questions? Contact MercyOne at questions@mercyonecustomercare.com

Phone: 844.325.4376
---