July 15, 2022
Cardinals,
July is nearly half over and that means the 2022-2023 school year is just around the corner. There are some very important upcoming events to kick off the new school year that I need to tell you about. We have student registration, staff returning back to school, new teachers coming to our Newton Community School District, back to school events, and a variety of student activities.
Our school year, academic, and activity/athletic calendars can be found on our district website (www.newtoncsd.org) and they are updated regularly with any additional information.
Important Dates - Upcoming Events:
• Student Re-Enrollment & Registration for new or returning students - ongoing
• Activities and Athletics Registration - online registration opened July 1, 2022
• Principals & Secretaries Return to Buildings - July 26, 2022
• New Teachers Report to School - August 9, 2022
• Back to School Day (NHS – 9 – 12th Grades) – August 11, 2022 (7:00 AM – 5:30 PM)
• All Staff Begin Reporting to School - August 17, 2022
• Back to School Kick Off (Staff) – August 18, 2022 – Guest Speaker: Clint Pulver
• Back to School Nights (PreK - 8th Grades) – August 18, 2022 (4:30 PM – 6:00 PM)
• First Day of School for K-12th Grades – August 23, 2022
• First Day of School for PreK – August 30, 2022
The Newton Community School District is excited to have another great group of new teachers joining the Cardinal family for the 2022-2023 school year. Our administrators have been very busy recruiting individuals to fill our open positions. Please visit our website (Frontline Recruiting & Hiring) for more information on current job openings in the areas of teaching, athletics/activities, substitutes and support staff – and help us to share these opportunities. Make sure you continue following the Red Pride Review and you will see the information on our newest Cardinals!
If you have any questions, please reach out to the central office staff at (641) 792-5809 Monday through Friday from 7:30 AM – 4:30 PM. We will make sure you get connected with the best person to serve you. We are thrilled to have your students back in school and are looking forward to working with our families and community members once again.
Yours truly,
Tom Messinger, Superintendent
Newton Community School District
State Golf Champ!
Rylee Heryford, Sr., Newton High School, went on to place first in Individual for Women's State Golf. We are proud of her achievements and the hard work she put in over the years! Learn more about how Rylee prepared and about her day on the course.
Newton High School Film Club
The Film Club at Newton High School is full of bright students, and a few stretched their talents to create and debut a film in our own theatre in Newton! Check out their creative process and what all goes into making a film.
Come Work With Us At Newton Community School District
Come work for our District and be apart of our Community TODAY!
Summer Meal Information
ONSITE MEALS - LUNCH
11:00 am - 12:30 pm
June 6 - August 5, 2022 (Monday - Friday)
Emerson Hough (700 N 4th Ave E)
Check our the July/August Menu here!
---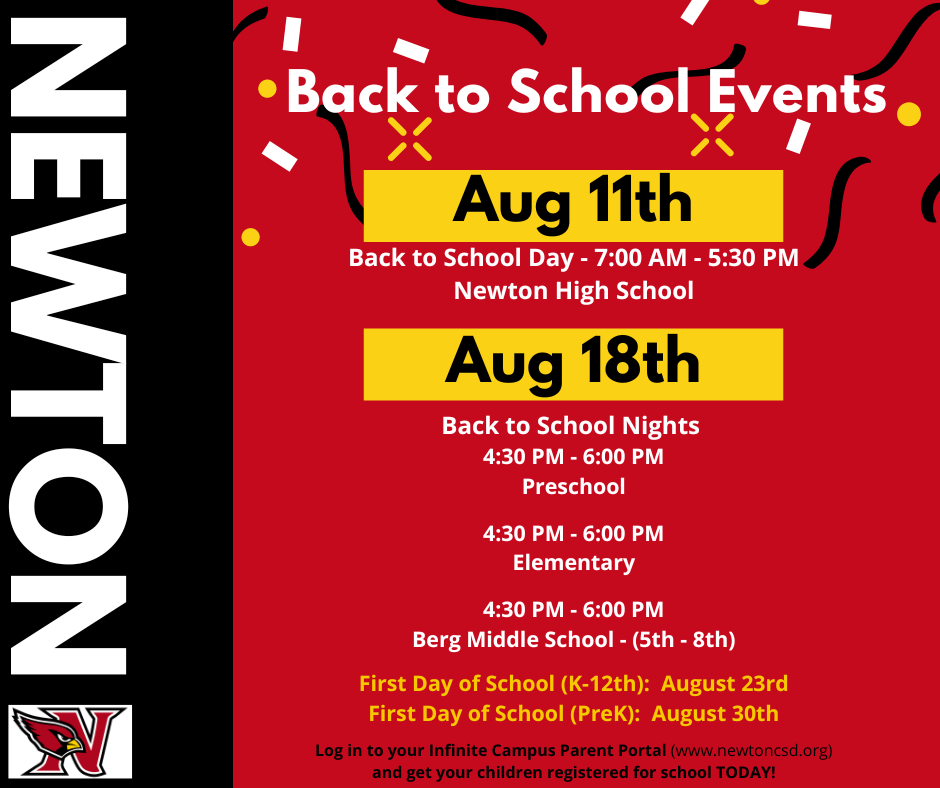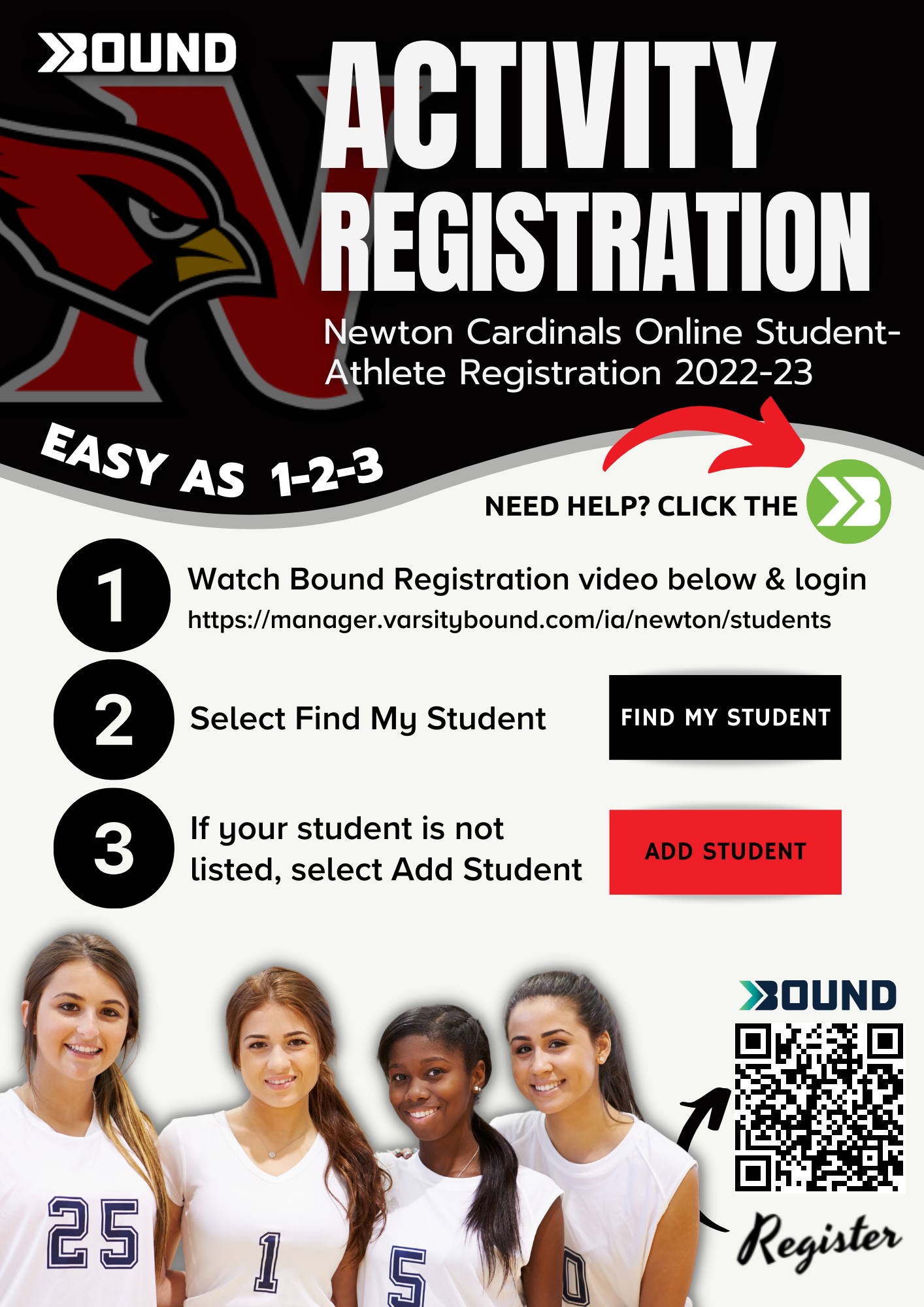 ONLINE ATHLETIC & ACTIVITY REGISTRATION THROUGH BOUND
HAS BEGUN!
Online registration through BOUND is for Berg Middle School (7th - 8th) and Newton High School (9th - 12th) students for the 2022 - 2023 school year.
Online registration needs to be completed before the official practice start date for each sport.
Official practice start date for BMS fall sports: TO BE DETERMINED
Official practice start date for NHS fall sports: August 8, 2022 - online registration must be completed prior, or student athlete will have to sit out from sport until information is submitted.
Online registration includes uploading a current physical (signed by physician & parents) - Click Here to download a physical exam form Questions? Contact Mindi Walker, NHS Administrative Assistant (Activities & Athletics) 641.792.5797 or walkerm@newtoncsd.org
Check out the School Board Meeting Highlights from the meeting on July 11th, Here!
Our Next meeting is August 8th, 2022
6:30 pm - 9:00 pm
EJH Beard Administration Center - Room 105A / via ZOOM
View our eBOARDsolutions/Simbli site: Meeting Agenda & Supporting Documents
You are invited to participate in our board meetings:
In-person: EJH Beard Administration Center (1302 1st Ave W, Newton) - Conference Room 105A
via ZOOM: Joining instructions in link above
Meeting ID: 899 4350 3268 Passcode: 772425
Questions? Call Christine Dawson, Administrative Assistant at 641.792.5809 (District Office, Option 0)