November 13, 2020

Cardinals,

We have finished our first quarter of schools in the Newton Community School District. It has taken on a different appearance in our buildings, and we are working diligently to always provide the best possible educational opportunities for our students while placing a high priority on the health and safety of our students, families, staff, and community.

To accomplish our mission we have had to make some adjustments along the way. We have delayed the start of our school year due to the major storm. We have gone to temporary remote learning due to the pandemic. We have implemented procedures for cleaning and sanitizing. I want you to know that the Newton CSD always relies on the cooperation of our community, but this year we could not have moved forward like this without your help and support. We will continue to communicate out to the public all school news. I also encourage you to attend school board meetings to hear the discussions and learn about the major decisions concerning our schools. The school board meetings continue to be held via Zoom. It is easier than ever to tune in and stay informed.

Thank you again for your continued support and always remember "Red Pride Lives Here!"

Tom Messinger
---
As we approach another Thanksgiving and holiday season, we are reminded that this year may look a little different than past years, but our friends, family and our Red Pride Community is always something to be thankful for. Check out all the things our staff and students were thankful for last year!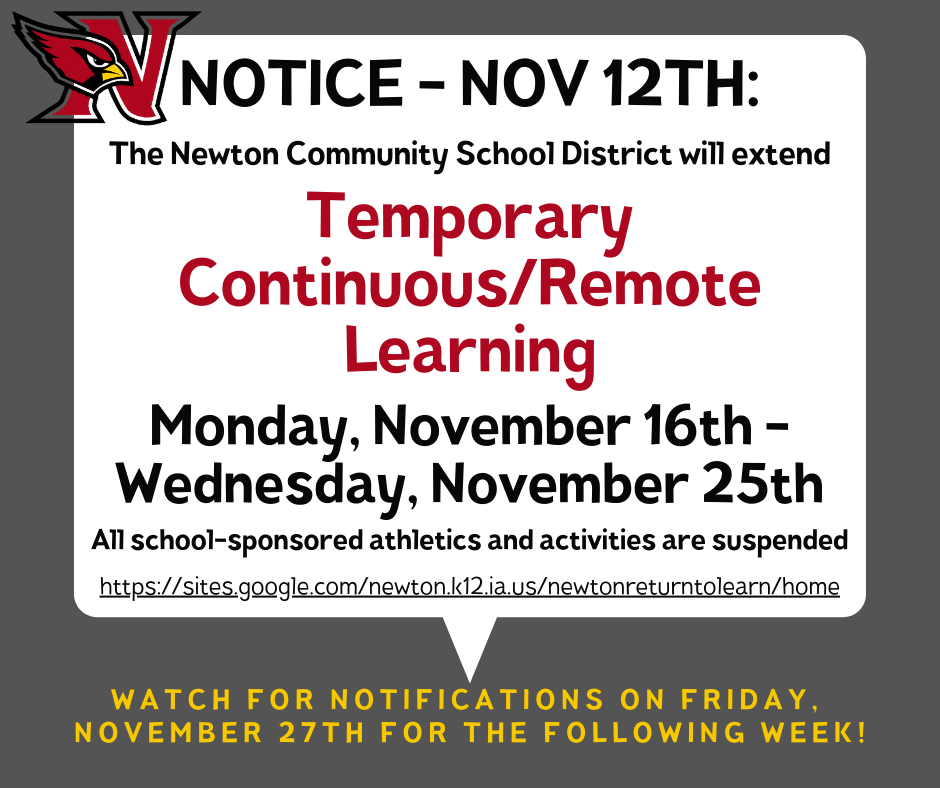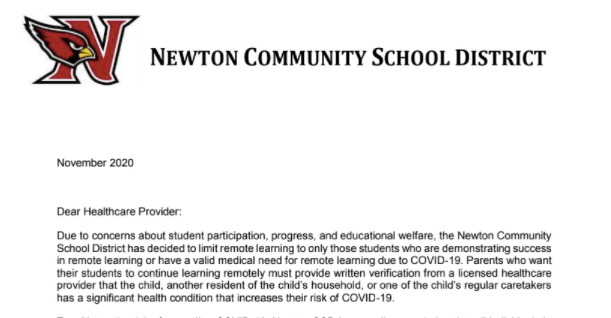 Cardinal Families: Please see a letter from Superintendent Tom Messinger regarding our Return to Learn Plan and revisions that were voted on at the November 9, 2020 board meeting.
If your student(s) are currently in the Fully Remote Learning Model, please see highlighted changes that are effective December 1, 2020.
Medical waivers for self or household are due: November 20, 2020
"Every single athlete on our team will go onto achieve great things. They will be strong community members, good family people, and excellent employees or CEO's — so, this is not the end."
Sarah Patterson, the girls swimming coach talks about a difficult end of the season, and how the swimmers came together to support one another during a disappointing time.
Read more in the Newton Daily News about how the team inspired Sarah as their coach, and brought hope and inspiration to the Red Pride Community.