December 17, 2021
Cardinals,
When the 2021-2022 school year started we all believed it was going to be a much easier year than the one before. While we still face many challenges in our lives, in school, and in our community, I continue to be amazed at the spirit within our Cardinal family. The school year is approaching the halfway point and our perseverance has helped us find a path forward. Our students continue to be our driving force.
On December 22, 2021 we have an early dismissal for our winter break. We will return on January 4, 2022. I hope everyone is able to take advantage of the holiday season and spend some time with family and friends. We sometimes forget the stresses we have faced and overcame. It is easy to get down and overlook all of the great things in life. In the last few weeks our students have put on some outstanding concerts under the leadership of our talented instructors, performed an exceptional play, created some keepsake gifts for their families in a kindergarten classroom, held Christmas in the Gym, and are delivering Christmas meals. Spreading joy and happiness is something our school family must take pride in. It means so much to our community.
I want to extend a huge thank you to our students, families, and staff members for everything you do. I also want to again acknowledge the support the Newton CSD receives from our city, local businesses, and community leaders. Together we will build a stronger Cardinal Community. As one, we will come out stronger. I am excited about 2022 and look forward to continuing to work with everyone.
Yours truly,
Tom Messinger, Superintendent
Happy Holidays From NCSD!
We hope you have a great break and holiday season!
Holiday Activities at Thomas Jefferson Elementary
The kindergartners at Thomas Jefferson enjoy Candy House making as those for years before them have! Holiday activities are a favorite elementary school activity.
Excellence In Education
Nominations for Excellence in Education candidates are due DECEMBER 31st! See what a difference it makes to the teachers who receive the award, and what a difference teachers in Newton Community School District can make!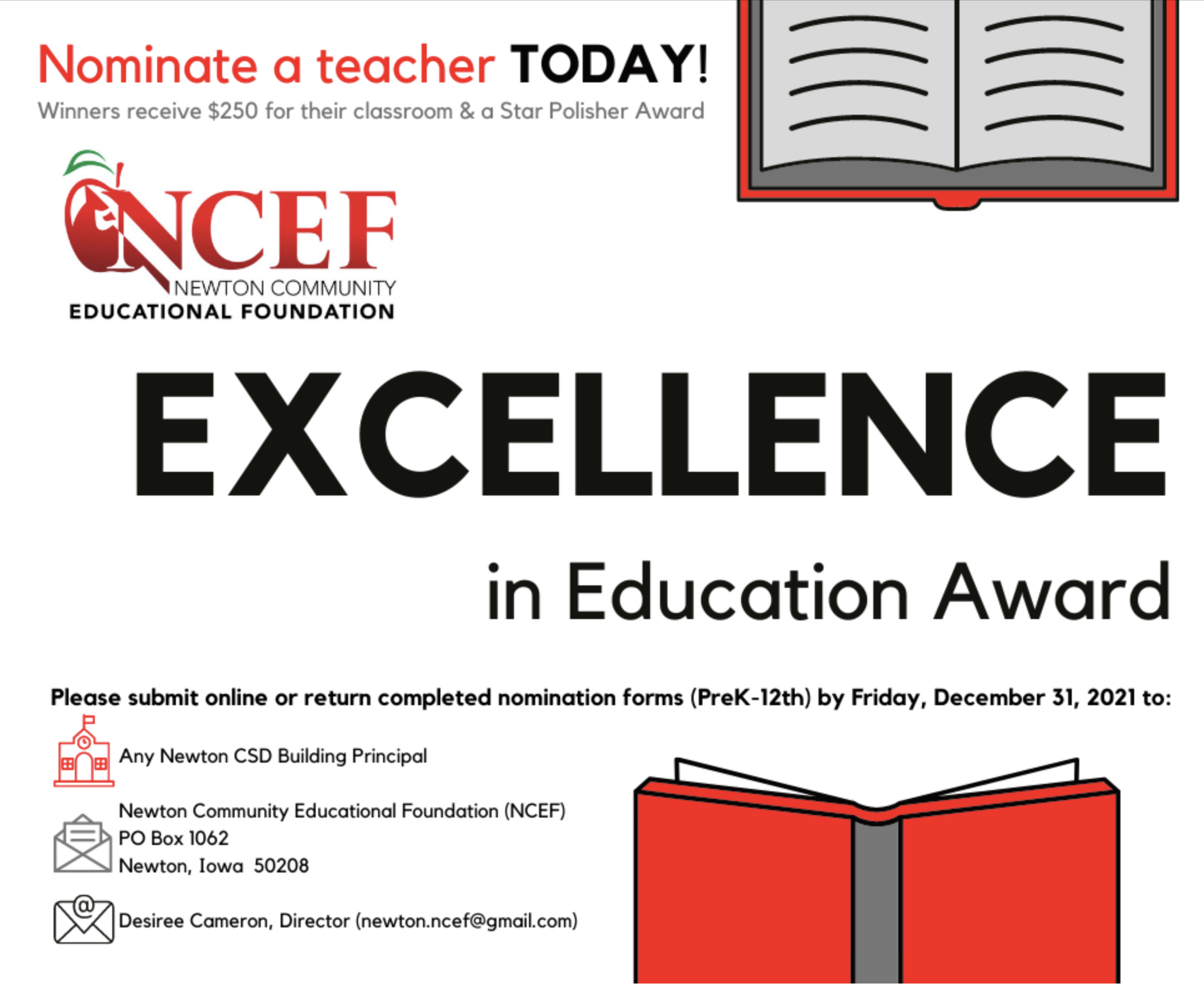 REMINDER: NOMINATE A TEACHER TODAY Cardinal Families: The Newton Community Educational Foundation (NCEF) is looking for great stories of learning and life changing moments from those who have been inspired by one of our teachers! If you are a parent, alumni, community member or student, you are eligible to nominate a teacher.
Click here to complete a Nomination Form today!
Nomination Forms are due: Friday, December 31, 2021
December 20th: NO Preschool and 1.5 Early Dismissal for Students (ALL Campuses)
December 20th: NHS Winter Band Concert from 7-8:30pm(Newton High School)
December 21st: Kindergarten Music Concert (AH/EH) from 6pm-7pm at Newton High School Auditorium
1st Grade Music Concert (AH/EH) from 7pm-8pm at Newton High School Auditorium
December 22nd:NO Preschool and 1.5 Early Dismissal for Students (ALL Campuses)
December 22nd:District Office Closes at 3pm
December 23, 2021 - January 3, 2022 Winter Break & Holidays - NO SCHOOL (Students & Staff)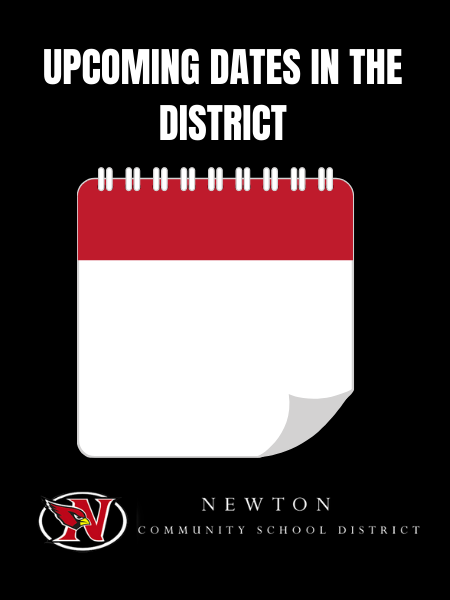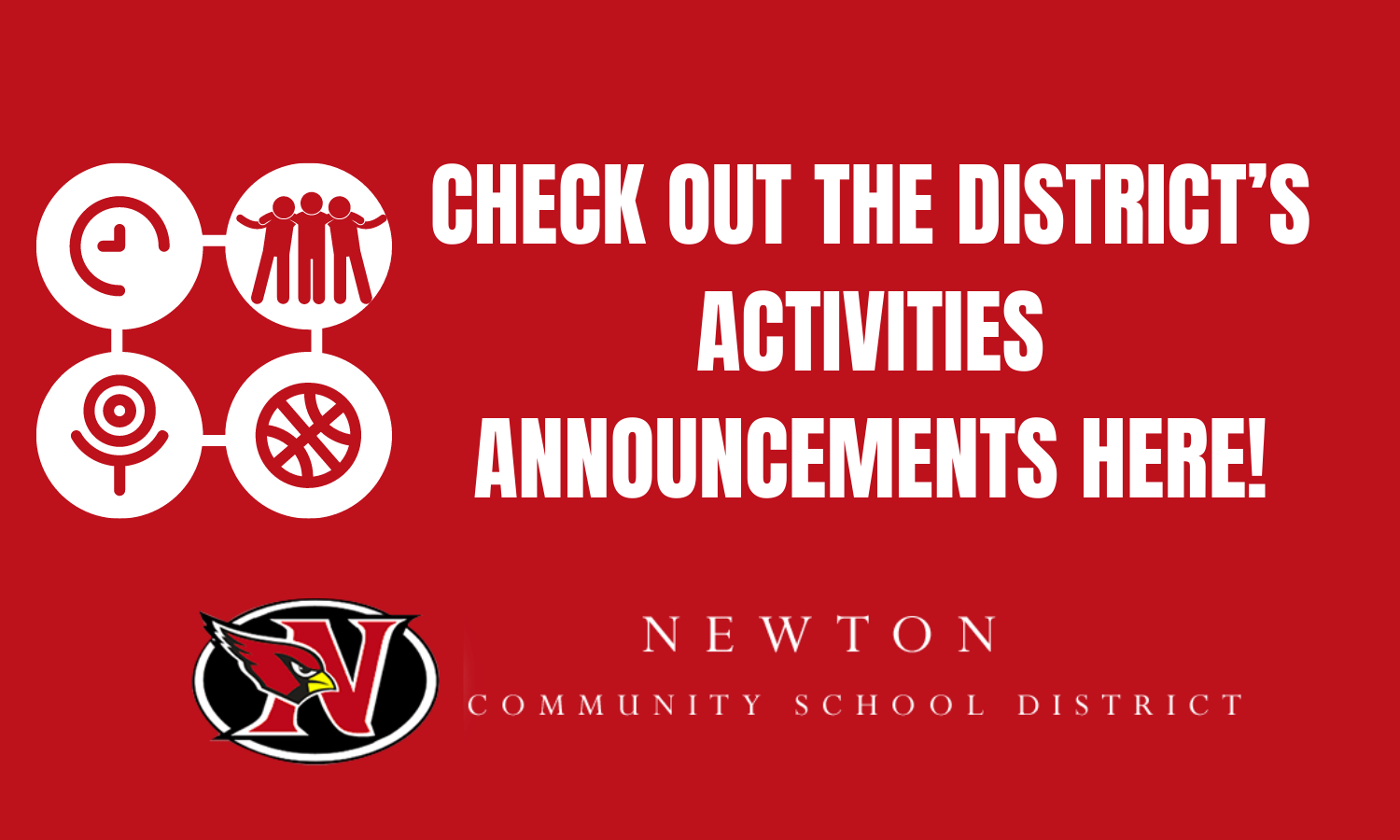 See the latest updates on Middle School and High School Activities and follow us on Facebook and Twitter for daily updates on activities and results!

School Board Meeting
Check out the School Board Meeting Highlights from the meeting on December 13th, here!