A NOTE FROM TOM MESSINGER

May 21, 2021
Cardinals,
In almost 30 years of working in education I have never been as proud of a group of people as I am about our Cardinal family. Staff worked tirelessly to help ensure our students resumed their learning after an abrupt end to school the year before. Parents and our community trusted the District to bring our students back. And students remained focused on respecting all aspects of theReturn to Learn Plan in order to rejoin the routine of school. Our students provided powerful input to help make the 2020 – 2021 school year a success. Make sure to watch the video in this issue of the RED PRIDE REVIEW, to hear some of our senior students reflecting on our year together!
The year is winding down and there are many exciting events coming up that we are thrilled to be a part of:
• Class of 2021 Graduation Parade on May 27
• WEST Academy Graduation on May 28
• NHS Graduation on May 30
• Kindergarten Kickoff - May 26 to welcome in our newest Cardinals!
These events celebrate the completion of the educational process for our Class of 2021 as well as the entrance of a new class of Cardinals. Please reach out to the Newton Community School District if you have any questions about our year end events. We hope you are able to be a part of these important days in our young peoples' lives. Help us build that Red Pride!
This will be the last edition of the RED PRIDE REVIEW before our students get out for the summer. Our next edition will be on June 18, 2021. Over the next few months we will be communicating some important dates and deadlines for the 2021 – 2022 school year. Please help us spread the word to everyone to subscribe to RED PRIDE REVIEW if they haven't already done so. We want to share much more information with everyone!
Yours truly,
Tom Messinger, Superintendent
Newton Community School District
Class of 2021
This class has been resilient, imaginative, and unwavering class. We are proud of the year they have had and all that they will do in their future! Congrats Class of 2021
Cardinal TV on the 2020-21 School Year!
The students of Newton High School's Cardinal TV are here to share a recap of this school year! Check out what Cardinal TV had to say about the 2020-21 School Year in Newton Community School District.
TEACHER FEATURE
Meet Sarah Patterson. She has enjoyed years at Newton High as a teacher and swim coach and is a much appreciated part of our RED PRIDE TEAM!
---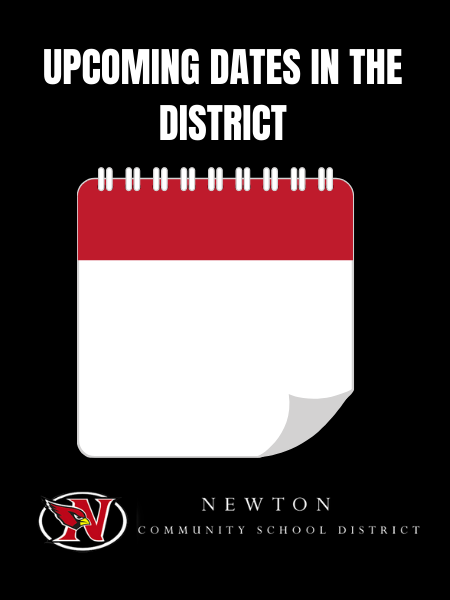 Upcoming Academic Calendar Dates
May 26th- Kick-off to Kindergarten (4:30pm-5:30pm)
May 27th-

Seniors LAST DAY
Graduation Parade (6:00pm)
May 28th- WEST Academy Graduation (4:00pm-5:00pm)
May 30th- Newton Senior High Graduation (3:00pm-4:30pm)
May 31st- NO SCHOOL- ALL DISTRICT
June 4th-LAST DAY OF SCHOOL-1.5 Hour Early Dismissal
June 7th & 8th- Teacher Work Day- NO STUDENTS
June 11th & 12th- Alumni Weekend
June 14th

Board Meeting (6:30 pm - 9:00 pm)

EJH Beard Administration Center - Room 105A / via ZOOM

Extended Office Hours-Re-enrollment for Students (4:00pm-7:30pm)