July 29, 2022
Cardinals,
It's a great time to be a Cardinal. The start of the school year is just around the corner and the excitement of the first day is beginning to build. The time has come to make sure you have a few things marked on your calendars - starting with the first day of school (K-12) on August 23, 2022. Preschool will start on August 30, 2022.
The start of the school year is always a little hectic and it can be difficult getting ourselves and all of our students back into the routines of school. Back to school activities, different patterns of sleep, daycare arrangements, and coordinating our calendars with the school calendar are just a few of the adjustments we all must make. As a result, I ask that everyone take a little time to get a few tasks checked off the list to avoid adding to the stresses of returning to school:
ü Make sure your students are registered / enrolled in school
ü Get athletic physicals or school physicals as required
ü Get school supplies
ü Get signed up for school communications if you haven't already done so
Getting these things done now reduces the risk of frustration or even panic once school begins.
One major thing to remember this year with registration / enrollment is that school meals (both breakfast and lunch) are no longer available to all families at no cost. The proper paperwork must be completed to qualify for free or reduced meals and school fees. Without this paperwork, there are fees associated with registration, driver education, and meals which are assessed to parents / guardians. The free and reduced application forms are now available from our website, district office, and school buildings. If you are not sure about the process and guidelines please contact Julie Miller, Food Service Supervisor at 641.792.5797 (X2001) or millerj@newtoncsd.org. It never hurts to ask if you are uncertain.
Again, thank you for choosing the Newton Community School District. We are very excited to have you and your family be a part of our much larger Cardinal family. We take pride in our efforts to provide your child with a top notch education. Our school community is dedicated to being honest, caring, positive, fun, and supportive. Let's have another great year!!
Yours truly,
Tom Messinger, Superintendent
Bus Transportation and Safety
The bus is a great way to get your student to and from school. Learn about how to prepare your student for riding the bus this school year and some great safety tips.
Here Comes The Bus
This app makes riding the bus easier for both parents and students! Learn more about this great app that is making a difference in school transportation.
Free and Reduced Meals 2022-23
Learn more about our free and reduced lunch plan and how to prepare for meals this upcoming school year!

Applications will be available @ each school office & the EJH Beard Administration Center effective July 26th. They will also be available here from the district's website.
The pandemic guidelines, where all students received free meals, are no longer in effect.
It's important that families complete an application. These applications not only determine free/reduced meals, but also free/reduced fees (registration, technology, etc.).
Here is the link to our Free & Reduced applications- Apply here
More info here!
Summer Meal Information- ONE MORE WEEK
ONSITE MEALS - LUNCH
11:00 am - 12:30 pm
June 6 - August 5, 2022 (Monday - Friday)
Emerson Hough (700 N 4th Ave E)
Check our the July/August Menu here!
---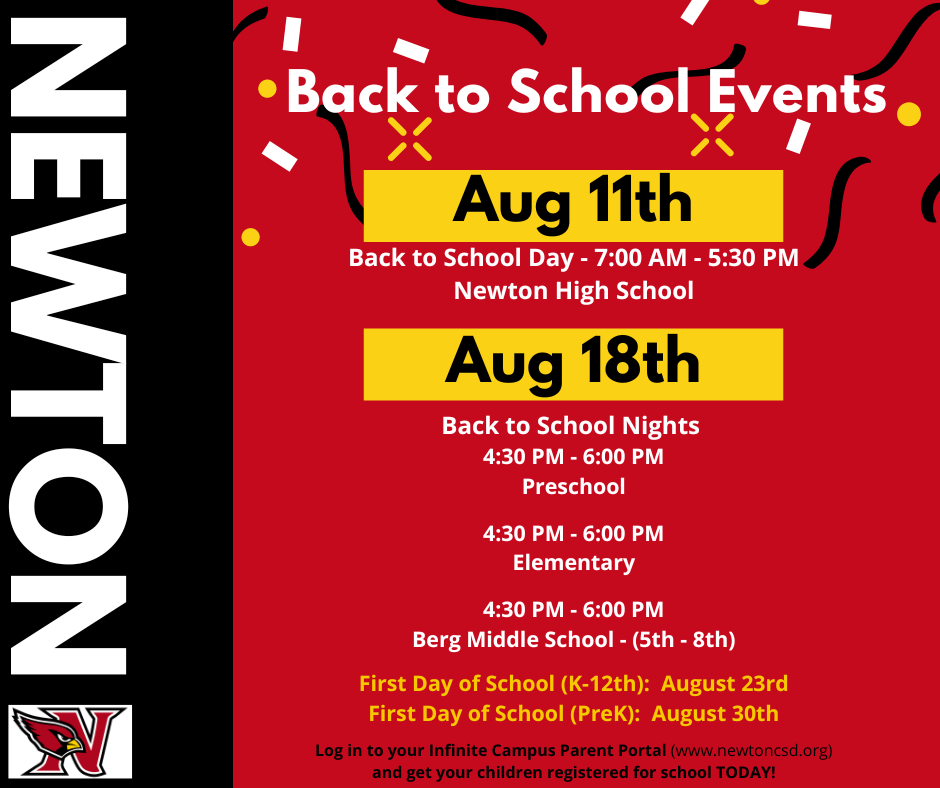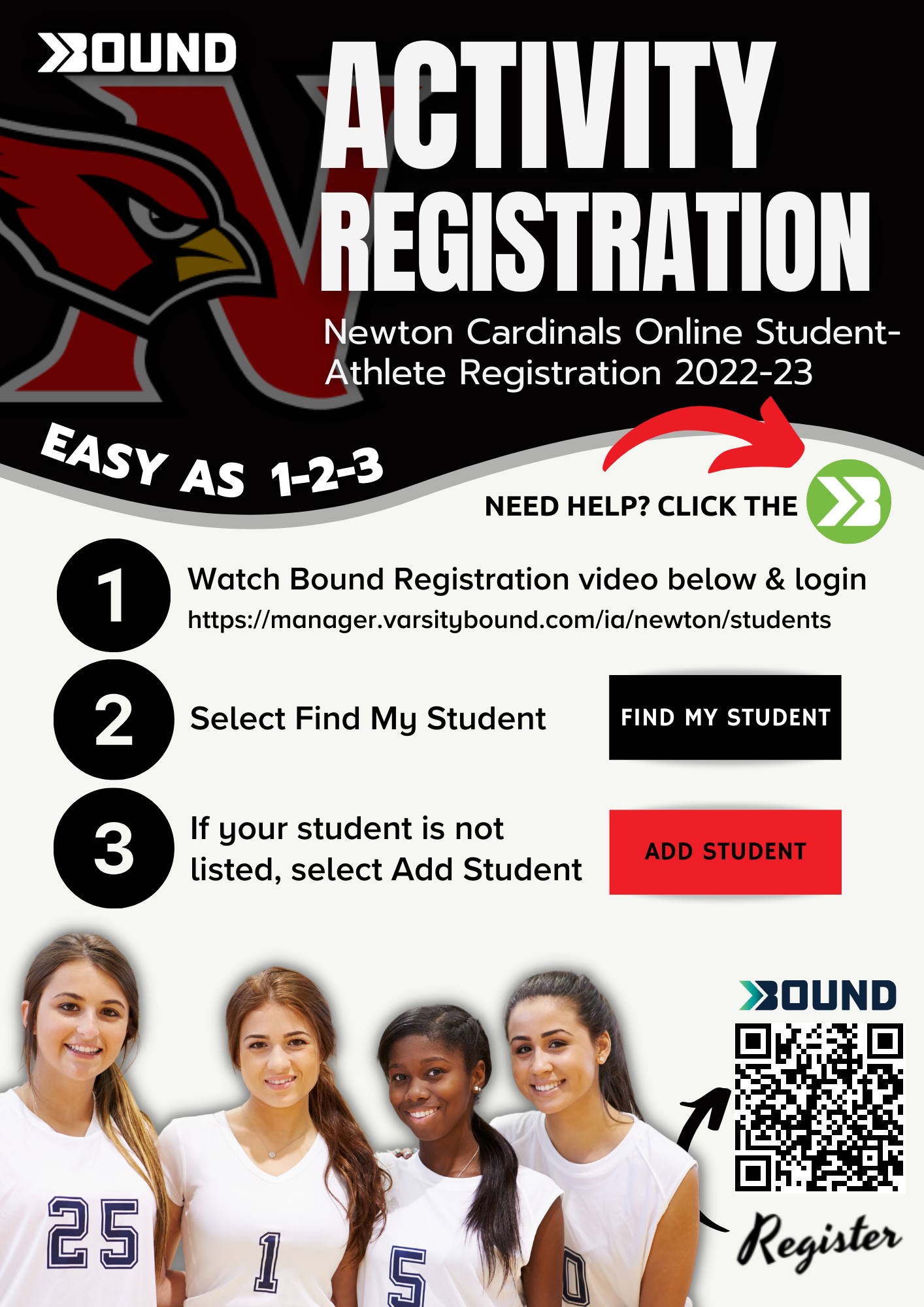 ---
ONLINE ATHLETIC & ACTIVITY REGISTRATION THROUGH BOUND
HAS BEGUN!
Online registration through BOUND is for Berg Middle School (7th - 8th) and Newton High School (9th - 12th) students for the 2022 - 2023 school year.
Online registration needs to be completed before the official practice start date for each sport.
Official practice start date for BMS fall sports: TO BE DETERMINED
Official practice start date for NHS fall sports: August 8, 2022 - online registration must be completed prior, or student athlete will have to sit out from sport until information is submitted.
Online registration includes uploading a current physical (signed by physician & parents) - Click Here to download a physical exam form Questions? Contact Mindi Walker, NHS Administrative Assistant (Activities & Athletics) 641.792.5797 or walkerm@newtoncsd.org
---
Board Highlights-July 25th,2022
Check out the School Board Meeting Highlights from the meeting on July 25th, Here!
---
Our Next meeting is August 8th, 2022 5:30 pm - 7:00 pm and 7:00pm-9:00pm School Board Work Session
EJH Beard Administration Center - Room 105A / via ZOOM
View our eBOARDsolutions/Simbli site: Meeting Agenda & Supporting Documents
You are invited to participate in our board meetings:
In-person: EJH Beard Administration Center (1302 1st Ave W, Newton) - Conference Room 105A
via ZOOM: Joining instructions here
Meeting ID: TBD Passcode: TBD
Questions? Call Christine Dawson, Administrative Assistant at 641.792.5809 (District Office, Option 0)